Happy 2014, Fellow Readers! Can't believe we're at the start of a new year already as it seems just like yesterday we were saying hello to 2013!
2013 sure went by fast – and as the saying goes, I guess we didn't notice because we were just having too much fun!
So join us as we recap and say good-bye to 2013. Here is a list of our most memorable and favorite reads of the year!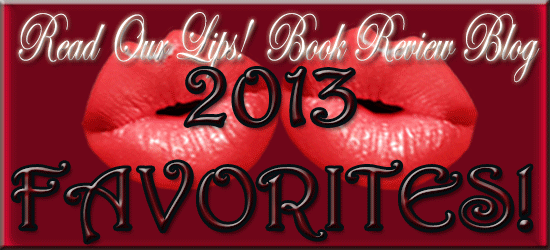 2013 Favorite Book:
Reverb by J. Cafesin because it's the most gut wrenching emotional rollercoaster straight from first to the last page.


2013 Favorite Author:
Kresley Cole:She's actually a new to me author that I started reading this year. I want to kick myself for not having read her work soon despite all of my GR friends raving about her.
2013 Favorite Series:
Charley Davidson by Darynda Jones. I love the mix of mystery, suspense, paranormal elements, and most of all the humor Ms. Jones' presents throughout the series.
2013 Favorite Character:
Cameron McKay from Rough Riders. He's a broken hero who doesn't think he deserves a chance at love with a woman or deserving of his family's love. He feels too broken to be wanted or needed by anyone.
2014 Most Anticipated Book:
Willing Sacrifice (The Sentinel Wars #8) by Shannon K. Butcher. I've been waiting for Torr and Grace's story since Burning Alive. I'm anxious to see where Ms. Butcher takes this story along with seeing a resolution of the issues regarding Tori (Nika and Andra Madison~sister.) I hope everything works out okay, but honestly I'm just rooting that Tori comes back a different person than the vengeance filled one who left. Now to wait and see what happens next!
---

2013 Favorite Book/s:
There were so many great reads this year, I just couldn't narrow it down to one. Here are my top faves for the year.
Against the Ropes by Sarah Castille which was about a fighter and a nurse finding their HEA. There was testosterone everywhere and an alpha male taking charge. *rawr*
I also loved:
Sweet Revenge by Zoe Archer. This was a historical action/suspense read filled with smutty fluff in an awesome combo. The Hero was yummmmmmy!
Wicked as She Wants by Delilah S. Dawson. This Steampunk read had bludbunnies, and is a great series I love returning to.
A Time of Dying by Hailey Edwards. This PNR fantasy features an alternate universe with strong heroines who save the day.
Heart of Iron by Bec McMaster. This read had Steampunk/PNR in a great combo filled with smut and swoons.
Night Blade by J.C. Daniels (Shiloh Walker). In this UF series, Kit Colbana kicks ass and fights for a better life.
Secret Maneuvers by Jessie Lane. This book is a military/suspense romance with estranged lovers who find their way back together. It features a yummy Hero, of course. I´m a sucker for a man in uniform =)
2013 Favorite Author/s:
Cherise Sinclair. Her book, If Only, is a great book and I loved returning to the Shadowlands and the Masters *fans self*
I also couldn't get enough of:
Kristen Ashley. You know what you get when you start a book from her, and Jagged & Own the Wind were no exceptions. The feature alpha males, motorcycles, and smutty fluff in a great combo.
Karina Halle. The Artist Trilogy was finalized with Bold Tricks and Oh Boy. What a series! My feelings were all over the place and I was biting my nails 'til the end.
Kresley Cole. Her Macrieve was a great read and I love her writing.
Katie Reus. Both her Mating Instinct with shifters and her Targeted with a yummy former Marine tickled my fancy :) Her books are filled with great Heros, smutty fluff, and lots of action.
2013 Favorite Series:
Jessica Sims' Midnight Liaisons. It's a fun shifter series with a twinkle added to the smut.


I also loved:
Laurann Dohner´s New Species. You don´t get more Alpha than this. I can OD on the muscles and animalistic urges featured in this series when I read anyone of them.
Jennifer Ashley´s Shifters Unbound. This is another great series with Alphas and shifters in a great mix.
Lisa Kessler´s Moon Series. Shifters and ranchers make for great Alphas in this series. *nods*
Lolita Lopez´ Grabbed Series. Larger than life Warriors finding their mates through hunting at an event on the planets they protect. This space read is full of smutty fluff and Alpha males *rawr*
2013 Favorite Character:
J.C Daniel´s Kit Colbana. You don´t get a character more kick ass than this. She´s used to getting by on her own, not needing anyone, and I love seeing her evolve. More angst than smut, but still kick ass =)
This isn't a character, but I can't go without giving a mention to The Food mentioned in Chloe Neill´s Chicagoland Vampires. I can´t read the books without feeling cravings. Lots of *om nom nom* in this one.
2014 Most Anticipated Book
Undead Pool by Kim Harrison. The cover says it all; why I can´t wait for it, I mean. Trent is there, right beside Rachel! *happy sigh*

I also can't wait for:
Burned by Karen Marie Moning. Dani´s continued adventures, can´t wait to return to this world.
---

2013 Favorite Book:
Also can't fail to mention:
What a Goddess Wants (Forgotten Goddesses #1) by Stephanie Julian
Table For Three (New York #1) by Lainey Reese.
Jessica Simms. It doesn't matter what name she chooses to write under, she's one of my go-to author for a great read and was my fave in 2013!
The Devil's Kiss by Gemma James. Every book was more amazing than it's predecessor. Just absolutely awesome!
Also have to mention:
The Selection Series by Kiera Cass. Great YA series I can't wait to see how it ends.
2013 Favorite Character:
Bowen MacRieve from Kresley Cole's Immortals After Dark Series. You know I can't resist a tortured hero.
2014 Most Anticipated Book:
That does it for our recap, Fellow Readers! Thank you so much for making 2013 such a great year by joining us here on Read Our Lips!
What were your faves in 2013?