Hello, Fellow Readers! There is a new deadline for our Football Free For All Contest!
I am in the process of moving and I expected to move after February 10, but that has now changed. I will be moving sooner and this will cut down on time to review entries for our Football Free For All Contest. Michele and I have decided to move up the deadline by asking everyone who is in the process of reading a football themed book and thinking of entering the contest to please email us within 5 days (by January 25, 2012) to let us know you are submitting a review to readourlips.m@gmail.com
If we do not receive an email from you by January 25 stating your intent to enter the contest, your entry will not be accepted. Click here for more details on the contest. Hurry – time is running out!

Amazon.com is running a sale on some free books, Fellow Readers. I have NOT read any of them, but they all sound too good to resist. HURRY – and download them A.S.A.P. – these awesome deals can't last long!
Simply click on the link provided under the book cover: BOOK SYNOPSIS FROM AMAZON.COM to download the free book.
The Delilah Complex by M.J. Rose:
As one of New York's top sex therapists, Dr. Morgan Snow sees everything from the abused to the depraved. The Butterfield Institute is the sanctuary where she tries to heal these battered souls.

The Scarlet Society is a secret club of twelve powerful and sexually adventurous women. But when a photograph of the body of one of the men they're recruited to dominate -- strapped to a gurney, the number 1 inked on the sole of his foot -- is sent to the New York Times, they are shocked and frightened. Unable to cope with the tragedy, the women turn to Dr. Morgan Snow. But what starts out as grief counseling quickly becomes a murder investigation, with any one of the twelve women a potential suspect.

The case leads Detective Noah Jordan -- a man with whom Morgan has shared a brief, intense connection -- to her office. He fears the number on the man's foot hints that the killings have just begun. With her hands tied by her professional duty, Morgan is dangerously close to the demons in her own mind -- and the flesh-and-blood killer.
---
Bloodlust by Larissa Ione:
Sometimes, you don't need romance… Sir Brynn of Lochland has a serious problem. He's been captured by an evil vampire queen who wants to use him as her newest blood slave. But Brynn doesn't have a submissive bone in his body, and he intends to fight her every step of the way.

Can Brynn's willpower remain intact when pitted against Sorla's superior vampire strength, seductive skills, and underhanded cruelty, or will she ultimately take possession of both his mind…and body? CONTENT WARNING: This is a VERY graphic erotic horror/fantasy novella. Expect blood, sex, some M/M content, and bad, bad words.

Also available for free at
Smashwords.



---
Rent-A-Stud by Lynn LaFleur:
First in the Coopers' Companions seriesIt isn't Jade Talmage's idea to accept her daughter's offer to hire an escort for the hospital gala. But the absence of her brother Paul—her usual companion—leaves her with no choice.Enter Zachary Cooper, one-third owner of Coopers' Companions, a professional escort company. Despite his good looks and sex appeal that make her hormones scream, Jade has no intention of being the next in a long line of the rent-a-stud's conquests.

A weekend of mind-blowing sex has Jade's heart crumbling. Zach is exactly the type of man she wants in her life. Yet she's sure a relationship with a man ten years her junior would lead to nothing but heartache.Zach doesn't care that Jade is older than he. He wants a lifetime with the woman he's fallen for so desperately. All he has to do is convince Jade that he's much more than a rent-a-stud…he's the man who loves her.



---
Strokes by Delilah Devlin: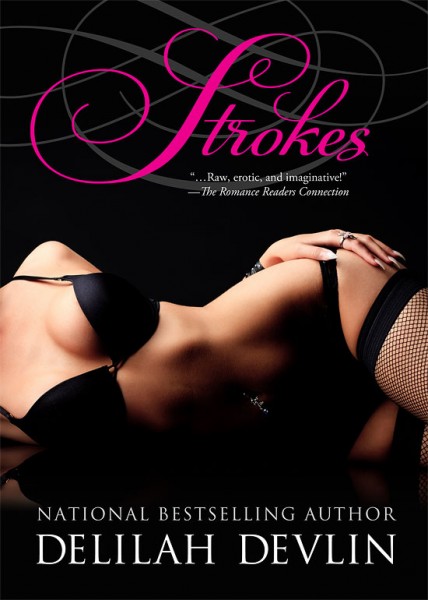 From National Bestselling Author, Delilah Devlin, comes a naughty collection of seven bedtime stories for a week's worth of nighttime reading pleasure —a little "som-som" to inspire sexy dreams or a one-handed orgasm, or to be read to a partner and enjoyed together.

Witness one woman's desperate attempt to seduce her busy husband in "Lily's Last Stand". In "Nip 'n' Tuck" follow a shy seamstress's adventures with an online suitor that doesn't go quite as planned. Dive into "Dreaming by the Sea" where a woman with a mysterious past is surprised by a lover who strides naked from the ocean to claim her. An adventurous Victorian nurse learns the pleasures of steam-driven technology in "Dr.Mullaley's Cure". A New York commuter shares lustful daydreams of with another subway passenger in "The Morning Ride". A woman finds the limits of her inhibitions tested in a one-night stand in "All About Me". In "The Obedient Wife", find out what really happened between The Beauty and the Beast. Hint: It's not your children's fairytale!
---
Bound in Sin by Cynthia Eden:
What's the price of sin?

Human Paige Sloan once loved werewolf Drake Wyler more than life, but then that life was taken away from her. Attacked by vampires, Paige was bitten, and, on a cold, dark night, the life she'd known ended. She was reborn as a vampire--a werewolf's deadliest enemy.

Paige ran from the vampires who attacked her, and she ran away from her lover. She didn't want Drake to know what she'd become, and she didn't want to face the fury of his pack. But a girl can only run for so long until the past catches up with her.

Some sins mark your soul.

When Paige learns that Drake is being targeted for death, she knows that she can't hide in the shadows any longer. She has to return to him, and she will do anything--anything--in order to make sure that he keeps living. The vampires might have destroyed her chance to live and love Drake, but they won't take him. Not over her undead body. She'll slay them all...and maybe, just maybe...she'll even have the chance to sin--one more time--with the werewolf who'd marked her as his mate.
Some sins are worth dying for...
---
Demon Hunter and Baby by Anna Elliott:
Her boss is a fairy, her ex-lover is a Knight Templar, and she spends her days fighting the demons that plague London's streets. But what's *really* complicating Aisling McKay's life is being a single mother to a nine-month-old baby girl.

Ever since the End Times, magic has been leaking into our world. Magic and demons, shadowy beings that possess humans' bodies and destroy their souls. The Monastic Order of the Knights Templar have revealed themselves to the world as guardians and defenders of the veil between the demon world and ours. But the Templar Order is growing weaker, and the veil is starting to shred and tear. Often all that stands between humans and complete demonic possession are professional demon fighters, Hunters like Aisling McKay.

Aisling already has enough to handle between her day job, her (very unplanned) baby daughter, Willow--and avoiding Kieran, Willow's father and a Templar Knight. But now a new danger is abroad in London--and facing it will set Aisling on a collision course with the past she thought she'd escaped for good.

Demon Hunter and Baby is approximately 98,000 words long and is appropriate for all ages. It is the first of a planned series that will send Aisling on a desperate search back into her own past ... and will lead her to long-buried truths that will shake the foundations of everything she believes. Truths that have the potential either to save or to utterly destroy the human world.