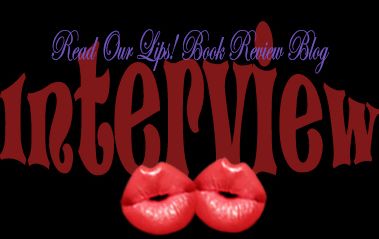 Hello, Fellow Readers! Join me in welcoming Amber Lin to Read Our Lips! Book Review Blog. Not only is she an amazing author, she also has a beautiful blog! I love it!


Hello, Amber! Welcome, and make yourself at home. Please tell us a little bit about yourself.
Hello, Julie, so great to be here. I married my high school sweetheart, birthed a kid who's smarter than I am, and I spend my nights writing down my dirty thoughts. In other words, life is good.

It definitely sounds good! Giving It Up is such a compelling story. Can you tell us about it, and what inspired you to write it?
Giving It Up, is my debut novel, and it was just released from Loose Id. Giving It Up follows a woman through her journey of healing… and smoking hot sex ;-) Despite the dark and serious themes explored in the book, I've
been thrilled that people are taking a chance on it and grateful when it is received well.
When I started Giving It Up, I had no intention of writing something controversial. If anything, the people who know me probably think I'm quiet and more likely to say, "Can't we all just get along?"
But writing is a very raw experience for me. The words, feelings, and fears are inside me, and it would really be impossible, as well as disingenuous, for me to write any other way.
As a reader, I've always been drawn to stories of pain and betrayal because the story of healing is so powerful. And with a romance, you know there'll be a happy ending.
That's a win-win, to me. But I noticed something—whenever there was a rape victim, they would sort of curl into themselves. No sex, no dating. It's sort of logical, I think, that women might do this after a trauma; however, it's not universal.
That depiction of the rape victim as a born again virgin is… well, flat. It's a stereotype. There are plenty of real, loving, wonderful women out there who face violence every day and don't react with chastity.
So what are we saying if they aren't represented in the romance genre? I want the romance genre to be a place that empowers women, not a place to tell us we're not okay.
So the premise of Giving It Up was that a woman goes on a monthly "date night", a dirty night of anonymous sex. But on this night, she doesn't find what she's looking for—she finds him.
[Check out our review of this amazing book! Click here]

Yes, I agree; it's completely exhausting reading a book with a withering female lead, which is why I don't delve into angst-ridden books. But your book doesn't have that at all; I couldn't put it down! Plus, the sexy scenes were so sizzling hot - was there a lot of 'research' that went into making sure they were so hot?
When I started writing, the sex came very naturally. For some reason, I didn't get embarrasse when writing all those dirty words and positions. No wait, I know the reason. Because no one would read it! And I didn't start writing with the intention to publish it. That's why I said earlier, writing Giving It Up was almost… involuntary for me. LOL. The words just kept coming!
That was the first draft. Boy, what a mess. A few years from now maybe I'll pull it out and have a chuckle at my own expense. Or not.
That's when I started interacting with other writers, gaining critique partners (there have been A LOT, something you can see in my acknowledgments for the book) and learning the craft of writing. Luckily, I met some amazing people who recognized that spark in my manuscript and offered the much needed criticisms to make it better.
One thing about becoming a published author of erotica, I'm not sure you can do it without your significant other offering to help choreograph the scenes, LOL. They just can't help themselves.
But I really can't act out the scenes that way. It's like straddling this line between reality and imagination, and it just doesn't work. That's right, I said straddling. You see, it just comes to me ;-)
That being said, I absolutely recommend erotica for spicing up your real life sex life. Whether it's writing or reading, erotica can get you in the mood, which means you're ready sooner and have sex more often. That's a win-win if I ever heard one…




Definite win, if I've ever heard one! LOL I know you mention Giving It Up is your first novel, so I can't ask you which is your favorite, yet. But now that it is released, do you have any upcoming projects?
Yes! I'm currently working on Shelly's book called Selling Out (the working title). Shelly is Allie's best friend in Giving It Up and also happens to be a prostitute. Yeah, I think it's safe to say I don't pull my punches
I am really excited about this book, though. It's shaping up beautifully. Speaking of favorites, and though I am relatively new in this industry, I think my favorite is whatever I'm working on. When I was writing Giving It Up, I was sad for it to be finished. Now that I'm knee deep in Selling Out , I am just beyond thrilled with it.




Wow! I can't wait to read it! Thank you so much for letting me interview you, Amber, but before you go, I have to ask you the obligatory Read Our Lips! Question: "If you could put your lips on any character, in any book, one you've written or not, who would it be?"



I wouldn't mind having my lips on Colin (my leading man in Giving It Up), not at all, b
ut in my head he is only for Allie. It's hard for me to separate the hero from the heroine, especially when I know they are well matched. But let's think. Perhaps it would be Gabriel from Charlotte Stein's Control.
I absolutely ADORE that book, as well as Gabriel. Plus I'm not sure they'd be averse to sharing… although I might just try to keep him ;-)
Follow Amber Lin:
Newsletter:
http://authoramberlin.com/newsletter/
Blog:
http://authoramberlin.com/blog/
Twitter:
https://twitter.com/#!/authoramberlin
Goodreads:
http://www.goodreads.com/author/show/5827158.Amber_Lin
Pinterest:
http://pinterest.com/authoramberlin/
---

Amber Lin is giving away a copy of her new book, Giving It Up to one very lucky Fellow Reader! Don't miss out and snag your copy today! Enter our contest today! Giveaway ends July 7, 2012.
All you have to do to win is
1) Follow us via Facebook
2) Fill out the Rafflecopter
3) Leave us a comment
Good Luck!
a Rafflecopter giveaway