They say admission is the first step towards recovery, and let me tell you, Fellow Readers, I have it bad . . . for book covers! LOL Sometimes I don't even read the synopsis, all I have to do is see the cover and it's instant:


L U S T!!!!
I have to have that book and rush to get it! Does this happen to you, or is it just me? Here are a few covers I can't get enough of!

---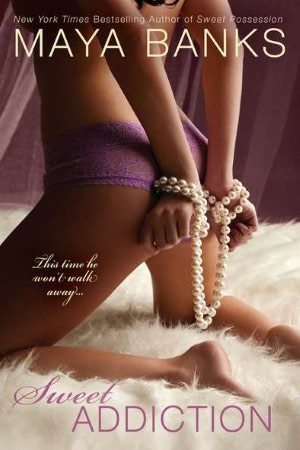 He awakened a need within her...
Cole is successful beyond his dreams. He can have any woman he wants, but there's only one he can't stop thinking about. His childhood sweetheart, Ren. He's never forgotten his first taste of innocent love and the desire that consumed them--or the pain he brought upon her...

But now she belongs to another...
Her long ago brush with submission awakened a longing in Ren that drove her to walk the darker edge of desire. She's become a beautiful woman at ease with her sexuality and unapologetic about her need for a dominant man. When Cole finds her again, he's gutted that she belongs to another. Ren's current master agrees to give her to Cole for a short time, but then she must return to his keeping. And though Cole agrees to this bargain, he knows he will never be able to let Ren go again...
---
The Claimed by Caridad Pineiro
Victoria Johnson loves her life. She's her own boss in a quaint beachside town, and has great friends who keep her grounded. If only they knew who she really is: an heiress to an ancient race who possesses astonishing superhuman powers. It's Victoria's duty to restore her clan of Light Hunters to their former glory by choosing the perfect mate. In Christopher Sombrosa, she just may have found him. Strong, smart, and successful, Christopher exudes a powerful energy. Their connection is sensual, irresistible-and forbidden.

A member of the Shadow Hunter clan, Christopher has defied his own father to lead his people away from affliction and violence. Yet he cannot ignore his duty to carry on his ancient bloodline. Stunningly beautiful and brimming with an erotic life force, Victoria is everything Christopher ever hoped for in a mate . . . but as a Light Hunter, she's his mortal enemy. Together, they could unite their warring tribes. But murderous factions on both sides don't want peace-and they'll stop at nothing to keep light and darkness apart forever . . .
---
For Your Eyes Only by Ann Mayburn
Amanda accepts an invite by the prestigious Institute for Women's Sexual Satisfaction. Volunteering for their study means she must divulge her deepest, naughtiest fantasies and then act on them. But one wicked fantasy involves watching her boyfriend do something so
intimate, so forbidden that she's afraid he will refuse and may even break off their relationship.

Jared can't believe his gorgeous girlfriend wants to see another woman take his anal virginity. But he wants to make her wildest fantasies come true, and maybe finally engage in some secret fantasies of his own...

Warning: This story contains a loving couple indulging in some very steamy fantasies including F/F kissing and light touching along with a deliciously naughty F/M/F pegging scene.
---
Night Walker by Lissa Kressler
He gave up his soul for a second chance to love her...

Two and a half centuries ago, Calisto Terana lost everything when a zealous priest murdered the woman he loved. Now, desperate for another chance to love her, he wants redemption for the mistake that cost her life.

She's haunted by dreams of her own death...

After catching her fiance with another woman, Kate Bradley returns to San Diego to clear her head. The last thing she needs is romance, but after meeting Calisto she's drawn to him in ways she doesn't understand.

They've waited in the shadows for centuries...

Calisto has no doubt Kate is the reincarnation of his lost love, but the Fraternidad Del Fuego Santo has a new watcher with dark ambitions of his own. As old enemies reemerge and a new threat arises, the betrayal that enslaved Calisto to the night might destroy the only woman he's ever loved again.
---
Power Play by Chellesie Dancer
Sergio Davis needs to make partner in the ad firm before he turns thirty, and his last chance is getting a huge new account with an underwear magnate. He's focused all his time and energy on this presentation, until he meets a beautiful woman in the parking garage.

Liz is an heiress, hugely successful in business, but not so successful in her relationships. She wants a man who finds her attractive for herself, not her money. She encounters an artistic and sexy man who takes control and that triggers a submissive reaction in her. Realizing he's enamored of her without knowing who she is, she sets up a seduction in the conference room where he's scheduled to make his presentation to her.

The attraction heightens, and Liz teases Sergio until he turns dominant. Once he discovers who she is, he plots his payback, controlling her body, her emotions, and her sexual pleasure. After a glorious night of sensational sex, the real control battle begins. Who will end up on top during the day, and during the night?

Reader Alert! : As payback for seducing him at work, this hot young man takes control of this sexy CEO's body, her emotions, and her sexual pleasure. He ties her up and seduces her through every room in her house and outdoors too. She's bound to enjoy it, wouldn't you?
---
Breaking Point by Pamela Clare
Denver journalist Natalie Benoit and Deputy U.S. Marshal Zach McBride find themselves captives of a bloodthirsty Mexican drug cartel. Working together, they escape through the desert toward the border, the attraction between them flaring hotter than the Sonoran sun. They fight to stay ahead of the danger that hunts them as forces more powerful than they can imagine conspire to destroy them both...
---
Hope I can get past the pretty covers
and actually read these books!