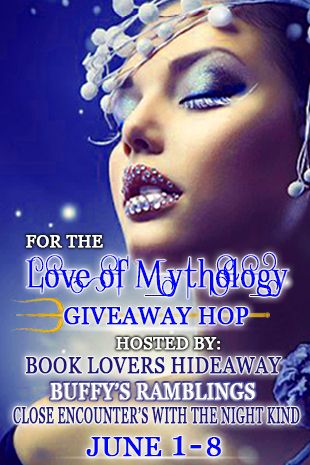 Hello, Fellow Readers! Thank you for joining us in the For The Love of Mythology Hop!
To celebrate mythology, Buffy's Ramblings, Close Encounters with The Night Kind, and Book Lover's Hideaway are giving away a grand prize of:
$45 Amazon GC or $45 worth of books at TBD.
e-books from Patricia Bates
a prize from Lisa Beth Darling
an e-book copy of Sunburn by Rosanna Leo
an e-book copy of Ain't No Bull by Danica Avet
an e-book copy of Remedy Maker by Sheri Fredricks
Hurry and enter by filling out the Rafflecopter below. Contest ends June 8, 2013.
a Rafflecopter giveaway

I've always had a love of mythology and I squee! every time I run across a book with mythology themes. Probably my favorite books with a mythology theme are Gena Showalter's Lords of the Underworld Series. So, we here at ROL! are giving away your choice of one of her books from this series.
All you have to do to win an e-book copy is:
1) Follow us
2) Leave a comment telling us:
which Lord of the Underworld Book you want (Choose from #1 – 9)
your follow method
your email
If you leave one of these requirements out, you will be disqualified.
Good luck! Our contest ends June 17, 2013.

*Huge THANKS to Buffy's Ramblings, Close Encounters with The Night Kind, and Book Lover's Hideaway for hosting this blog hop. Please check out their sites to see who else is participating*